Becoming a lodging member has great benefits!
Publications

Through both print and electronic communications, members are kept informed of the latest industry news. The quarterly Inn Touch magazine, monthly Innsider e-newsletter and timely e-alerts and legislative briefs put the most current and relevant lodging industry updates and information at your fingertips.
From the latest on revenue management to marketing tips, energy cost-saving strategies to comparative wage data, WIA publications keep members "in the know."
Information & Resources

Whether you're looking for money-saving ideas, industry benchmarking data or have regulatory or room tax questions, WIA will provide the answers. Each month the Innsider e-newsletter features the most recent regional Occupancy and ADR data available from Smith Travel Research.
The Innkeepers' Resource Guide provides answers to members' most commonly asked questions and can be found online 24/7 at the WIA members' Web site. Room tax resource pieces are also available to members online. Finally, the Lending Library contains a wide selection of training materials available for complementary member use.
Marketing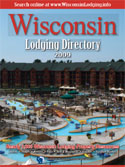 Through both print and electronic media, WIA members receive year round exposure.
With more than 220,000 copies of the Wisconsin Lodging Directory currently in circulation, travelers from Wisconsin, Minnesota and northern Illinois find WIA member properties in this popular, easy-to-use, take-along guide.
Also, the traveler-friendly, searchable WisconsinLodging.info Web site draws more than 17,000 searches monthly.
For properties interested in affordable options to stretch marketing dollars, WIA offers electronic venues like the Featured Properties section and the new WisconsINN Getaways e-mail program, as well as an array of niche marketing opportunities (electronic and print) in the popular Cooperative Advertising Program.
Federal Representation

As a partner state of the American Hotel & Lodging Association (AH&LA), WIA participates in national issues affecting Wisconsin's lodging industry. Each spring, WIA representatives meet with Wisconsin's Congressional delegation in Washington, D.C. to address issues of concern face-to-face, ensuring your voice is heard.
State Representation
Through both a contract lobbyist and WIA's President/CEO, WIA ensures the interests of the lodging industry are represented in Madison, providing you a voice in the legislative process so your issues are clearly heard. In 2008, the association's efforts resulted in an increase in the state lodging per diem rates as well as defending room tax expenditures for marketing and tourism purposes.
Members are kept abreast of relevant legislative issues with timely Legislative Briefs and through the online Legislative Center, located on the members' Web site.
Legal Information
WIA members have access to free preliminary legal advice from our noted hospitality legal counsel. In 2009, members also received a complementary electronic employment compliance manual, helping to avoid potentially costly employment mistakes.
Click here to see membership rates and Join Today!